NEO is a line of portable, brand-able furniture specifically designed for the trade show and event industry. Unlike traditional furniture options, the NEO line is modular, lightweight, and designed to pack efficiently for storage and transport. Its intuitive design allows it to be assembled in minutes without tools.
Rental furniture is pricy and very often shows wear from transportation and use. Purchasing and shipping traditional home/office furniture components is inefficient. With no way to fold, stack, or nest together, they require large shipping containers to store and are prone to damage in transport.
Never rent a table or chair again. The NEO OTMB-100 portable, brand-able table and chairs are the perfect alternative to expensive, impersonal rental furniture. The attractive table and chairs assemble without tools, come in four finishes, and include a brand-able inlay option. Print your brand or message on 1/8" Sintra (or other material) and turn your meeting space into a sales opportunity. The tables and chairs pack in an optional roto-molded case with wheels and reusable foam jigging.

Folding and stacking furniture, while efficient for transport and storage, lacks aesthetic appeal. In addition, most of these options are for a lower chair height. The best seating solutions allow someone seated to stay at the same eye-level as someone standing. Lastly, none of these allow a simple, cost-effective way to personalize, stylize, or brand like most other elements in the exhibit space.
Total setup takes about five minutes. The legs interlock, and the seat and counter top snaps securely into place with self-locking plungers. No tools. No hassles.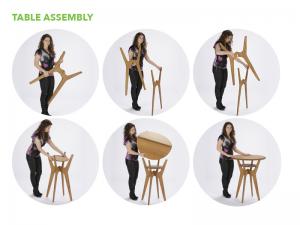 NEO is made in the USA and constructed with renewable bamboo and recycled aluminum. All glues, stains, and finishes are low VOC or VOC-free. The roto-molded shipping case and foam inserts are made from recycled resins. Whenever possible, inlays are printed on sustainable, certified green materials.
Features and Benefits:
Portable, Brandable Table and Chairs
Four Finish Options: Amber, Espresso, White, and Black
Graphic Inlay Options
No Tools Assembly | About 5 Minutes for Table and Chairs
Multiple Case/Packaging Options
Bamboo and Aluminum Construction
Made in the USA